A Widening Ad Spending Gap in the UK – eMarketer
Advertisers in the UK are devoting more of their media budgets to digital channels, according to eMarketer's latest estimates of UK ad spending share by media.
Nearly half (49.6%) of daily time with media by UK adults ages 18 and older will be dedicated to digital formats in 2017, eMarketer predicts, while almost 64% of ad outlays (excluding outdoor ad spending) will be directed to reaching those consumers. For digital ad spend, its 63.9% share will be its highest yet and continue to rise through 2019.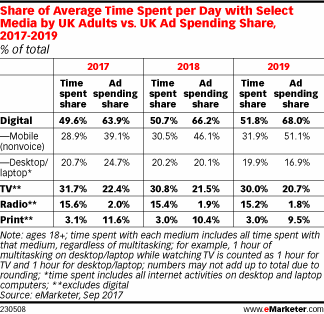 Of course, a key reason for the imbalance is that much of TV and radio in the UK is ad free. But digital's growing slice of UK ad spend is also a reflection of marketers's desire to reach consumers who are increasingly wedded to mobile devices for media access. This year, nearly 29% of UK adults' media time will occur over mobile devices, drawing time away from desktop and laptop computers.
Advances such as mobile programmatic advertising are also helping spur UK mobile ad investment. According to figures from the Advertising Association (AA) – UK and Warc, 99% of new digital ad investment in the UK last year was spent on mobile advertising. Moreover, mobile ad prices are rising, which also contributes to higher ad spend.
By 2019, eMarketer predicts mobile will garner 51.1% of total ad spending in the UK while attracting 31.9% of UK adults' daily time spent with media—both new highs.
Mobile's gains will come at the expense of other media types, with nondigital TV and print media feeling the greatest effects.
While UK adults will spend at least 16 minutes more per day watching nondigital TV than using a mobile device this year, daily time spent on mobile devices will overtake nondigital TV by 2019. Nondigital TV's share of ad spend will be about 17 percentage points lower than mobile's this year and the gap will grow to 30 percentage points by 2019, eMarketer expects.
Ad spending devoted to print media will also suffer at the hands of mobile-driven digital media use. Combined, newspapers and magazines will command 3.1% of UK adults' daily media time but 11.6% of total media ad spend this year. While print consumption will hover around 3% of daily time spent through 2019, its relative overrepresentation as an advertising venue will see its share of UK ad spending dip below 10% by 2019.
Nondigital radio's decline will less dramatic. eMarketer predicts it will account for around 15% of UK adults' media day and around 2.0% of ad spending between 2017 and 2019, with only incremental losses in share throughout the forecast period.
—Corey McNair
A Widening Ad Spending Gap in the UK – eMarketer