Brexit: UK reveals details of proposed new EU security deal – BBC News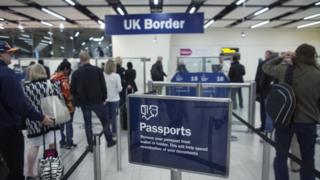 The government has revealed details of its proposed new security treaty between the UK and the EU after Brexit.
Ministers want the treaty to provide a legal basis for continued security, law enforcement and criminal justice co-operation after the UK's departure.
Whitehall officials are understood to be optimistic the plans will be agreed, and that security agencies will find other ways to keep people safe if not.
The costs of the proposed new arrangements have not been spelled out.
The plans, published in a government document, are described as a new, "ambitious" model of co-operation.
It rejects the idea of negotiating a number of separate agreements covering each area of law enforcement.
But it says it should be possible for the UK to secure an agreement with Europol – the EU intelligence agency – that provides the same benefits as now.
'Co-operation crucial'
Officials say the new treaty would aim to replicate the provisions of the European Arrest Warrant system, under which suspects can be speedily extradited between member states, but it would not necessarily mean Britain belonging to the EAW.
The paper acknowledges that any new treaty will have to be underpinned by a new legal agreement, as the UK will leave the European Court of Justice when it departs from the EU.
Brexit Secretary David Davis said: "Together with the EU we have developed some of the world's most sophisticated systems in the fight against crime, because cross-border co-operation is absolutely crucial if we're to keep our citizens safe and bring criminals to justice.
"That is why we want to build a new partnership with the EU that goes beyond any existing relationship it has with non-member states, so we can continue countering these cross-border threats together."
Other areas listed in the document that the government wishes to continue to contribute to and benefit from are:
Schengen Information System II, which provides real-time alerts of suspects and vehicles
European Investigation Order, which allows member states to conduct inquiries in other countries
Prum agreement, which allows countries to share DNA , fingerprint and vehicle registration data
Joint investigation teams to help tackle crime
The UK has the largest defence budget in the EU and, along with France, is one of only two countries in the bloc with permanent membership of the United Nations Security Council.
German Chancellor Angela Merkel has previously said Europe can no longer "completely depend" on the US and UK following the election of President Trump and the Brexit vote, while European Commission President Jean-Claude Juncker recently called on EU member states to step up their military co-operation.
In her letter formally triggering Brexit in March, Prime Minister Theresa May warned that failure to reach a deal with Brussels would mean "co-operation in the fight against crime and terrorism would be weakened".
Brexit: UK reveals details of proposed new EU security deal – BBC News