Hurricane Irma: UK looks at using aid budget – BBC News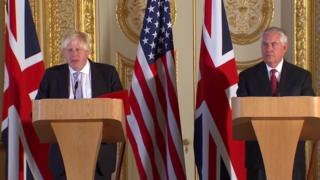 Officials are looking at ways the UK £13bn aid budget can be used to help the British overseas territories hit by Hurricane Irma, Boris Johnson has said.
Under international aid rules, Anguilla, Turks and Caicos and the British Virgin Islands are considered too wealthy to qualify for assistance.
But the foreign secretary said a way would be found to use UK aid money.
He was speaking at a joint press conference in London with US Secretary of State Rex Tillerson.
Describing his visit to recent visit to the British Virgin Islands (BVI) and Anguilla, Mr Johnson said: "I've never seen anything like it – like the destruction… you see in images from the First World War.
"And I think anybody with an ounce of compassion would want to see spending by our government on getting those people back up on their feet and indeed on getting those British – and I stress – British overseas territories helped in the long term.
"And of course we are looking now at ways across Whitehall for ways our aid budget can be used."
Anguilla, Turks and Caicos, and the British Virgin Islands are among 14 self-governing British overseas territories.
The UK government is responsible for their defence and security and has a duty to protect them from natural disasters.
But under international rules they do not qualify for official aid because their national incomes are too high.
The rules are agreed by the Organisation for Economic Cooperation and Development, of which Britain is a member.
They make clear that only the poorest countries can receive what is known as official development assistance or ODA.
The Department for International Development insisted the fact the territories were not eligible for official development assistance had not affected the UK's emergency relief.
And officials denied that claims that five times as much money would have been available if ODA could have been used.
Mr Johnson this week visited Anguilla's worst-hit areas, before heading to the neighbouring British Virgin Islands.
During the trip, he promised £25m more relief money on top of the £32m already being spent in the Caribbean, with the money coming from different departmental budgets.
The announcement comes amid criticism from Caribbean residents and senior MPs that the UK's response to the disaster was too slow.
Anguillan chief minister Victor Banks welcomed the visit but said the money offered by the government so far was "not enough".
The former attorney general of Anguilla, Rupert Jones, told the Guardian the £32m hurricane relief fund was a "drop in the Caribbean Sea".
Mr Johnson defended the government's response as being "extremely fast", while the Foreign Office said more than 1,000 UK military personnel were in the region helping with the relief effort, with 200 more arriving in the next few days.
Hurricane Irma: UK looks at using aid budget – BBC News