NexGen Energy – Investing In Uranium With The Warren Buffett Of Asia – Seeking Alpha
Investment case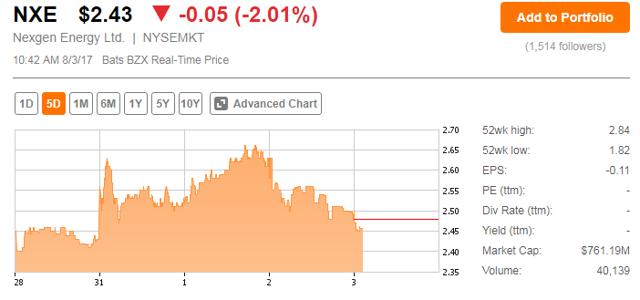 Source: Seeking Alpha
He started with nothing and is now known as Superman and the Warren Buffett of Asia, thanks to his incredible business acumen. His wealth stands today at almost USD 35bn, making him the richest person in Hong Kong and the 19th richest in the world. His name is Li Ka-shing and at the end of June 2017 he doubled down on Canadian uranium miner NexGen Energy (NXE) with a USD 110mn investment.
So why is Li betting so heavily on a company from a sector that has been in a bear market for six years? Well, NexGen holds the Arrow deposit, the largest undeveloped uranium project in the world. The size of the project is mind-boggling – it will have an average annual production of 27.6 million pounds during its first five years. This would equal around 20% of global supply – higher than the output of all assets of Cameco (CCJ) combined:

Source: NexGen corporate presentation
Additionally, NexGen's preliminary economic assessment shows that the company would be highly profitable even at USD 25 per pound of uranium. It would have a net present value of CAD 1bn (USD 0.8bn) and an after-tax internal rate of return of 27% at that price. To top it off, Arrow is open for exploration in most directions and at depth.
The uranium market
With so much focus on solar and wind power, the uranium bears will tell you that the uranium is finished as Germany, France and South Korea are shutting down reactors, the USA nuclear Renaissance is dead and the uranium market is oversupplied. The uranium bulls will tell you that this couldn't be farther from the truth as China and India betting on nuclear power and Japan is restarting its reactors.
And I'm not going to go deeper. The point I want to make is that NexGen has a great project even at the current low prices. However, one thing uranium bears and bulls can agree on is that the current price is unsustainable. This is the reason why there is such an amazing disconnect between the spot and futures uranium markets. Take Berkeley Energia for example. It's currently the only major uranium company in the world that's in the construction phase and in November 2016 it managed to get an off-take agreement for two million pounds annually over five years at a fixed price of USD 43.78 per pound. This was at a time when spot uranium prices were hovering around USD 18 per pound.
For the purpose of this analysis, I think that a price of USD 40 per pound of uranium is achievable at this time.
NexGen Energy's project
I'm a big fan of Peter Lynch and one of my favorite quotes from him is this one
If you're prepared to invest in a company, then you ought to be able to explain why in simple language that a fifth grader could understand, and quickly enough so the fifth grader won't get bored.
I will try to keep this analysis simple. Maybe not simple enough for a fifth grader, but simple enough for anyone who is interested in mining companies from other sectors. For example, grade, life of mine, reserves, resources, payback and internal rate of return are all key metrics used also in the gold space. Sorry if you wanted to hear about the tailings deposition technology that NexGen plans to use which includes mixing tailings with cement and storing them underground. Or the 3D resistivity survey technology that the company is using for exploration. My aim is to explain the potential and risks for the company in a simple manner.
Let's get back to NexGen: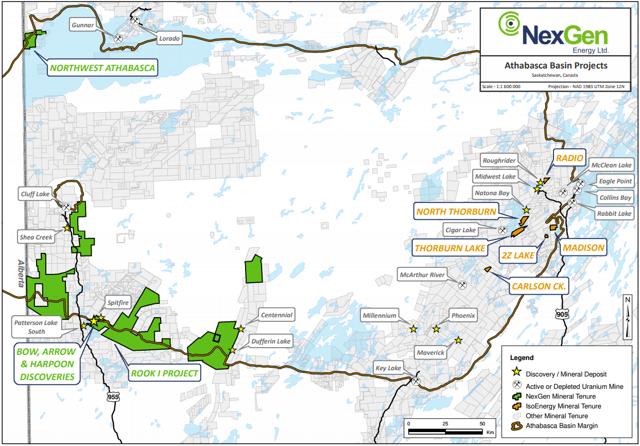 Source: NexGen corporate presentation
The company's deposits are located in the Athabasca Basin in Canada's province of Saskatchewan, one of the best mining jurisdictions in the world. The largest one is known as Arrow.
The preliminary economic assessment (released on 31 July 2017) showed a very decent mine life with very low operating costs of just USD 6.70 per pound: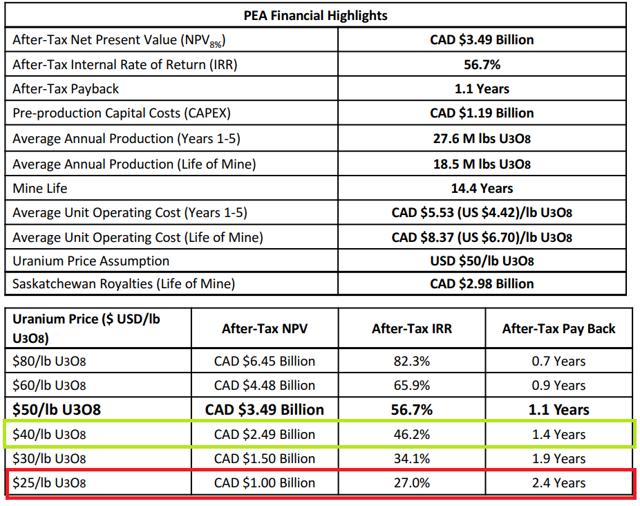 Source: NexGen corporate presentation
And the all-in sustaining costs stand at USD 11.78 per pound.
The net present value is calculated based on prices of USD 50 per pound but we can see that the project looks good even at USD 25 per pound. Considering that Berkeley managed to secure a supply deal at almost USD 44 per pound, a USD 40 scenario seems feasible. It would give the project a net present value of CAD 2.49bn (USD 1.99bn). At the moment NexGen's market cap is just over USD 760mn. Also, this study does not include the results of NexGen's winter and summer 2017 drill programs which will total over 66,000 meters of additional drilling. Production is expected to start sometime in the next decade.
Regarding cash reserves, the company has around CAD 200mn (USD 160mn) thanks to the latest deal with the Warren Buffett of Asia. This should be enough to fund several years of drilling. And there is a lot of drilling to be done as the Arrow deposit is open in most directions and at depth. It's also the largest high-grade uranium deposit in Canada: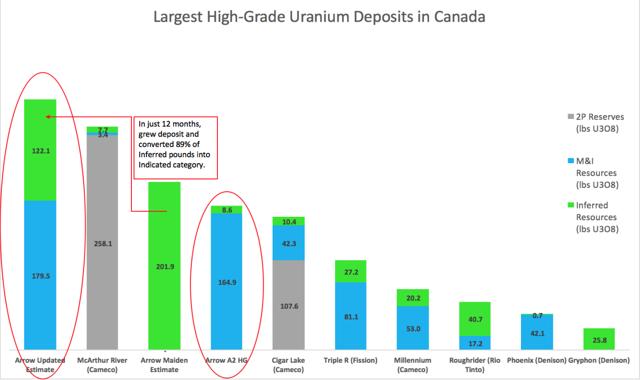 Source: NexGen corporate presentation
Catalysts
There are several important catalysts in the short and long term that can help NexGen's price move higher. The three major ones I can think of are:
Exploration. NexGen's winter and summer 2017 drill programs alone include over 66,000 meters of drilling. As Arrow is open in most directions and at depth, this will result in an important update to the resource model.

The price of uranium. Even a spark of hope in bear markets can have an incredible effect. In January 2017, KazAtomProm announced that it's cutting production by 10% for the year and uranium prices soared from USD 19 to over USD 26 per pound in just over a month. The jump in the Global X Uranium ETF (URA) was even stronger with a move from below USD 14 to over USD 19 per share: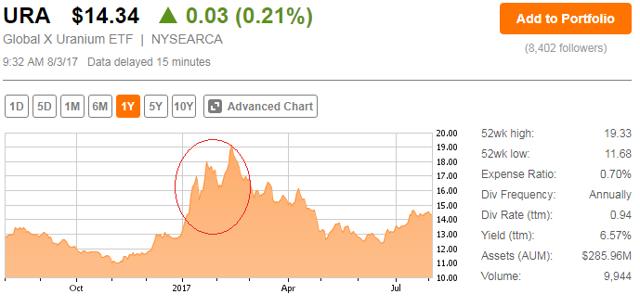 I also see another potential spark before the end of 2017. See, many investors wrongly think that the largest uranium miner in the world is Cameco. It's actually KazAtomProm, a Kazakhstani state-owned company. An IPO is being prepared for 2018 and the company recently created a Swiss trading arm which would "bring much-needed liquidity to the uranium spot market". Obviously, higher spot market prices would help this IPO in a huge way. The trading arm is expected to start trading in the third quarter of 2017.
Takeover. A maiden Pre-Feasibility Study is the next logical step for NexGen and one is planned for 2018. With NexGen's project advancing fast, several analysts have predicted that the company could get bought by 2018 or 2019. Arrow makes sense for global natural resource players like BHP (BHP), Rio (RIO) and Vale (VALE) as well as uranium majors like Cameco. Another bidder could be Li Ka-shing. He definitely has the resources and I'm sure China would prefer their new reactors to get raw materials from a company owned by one of their own.
So what are the major risks?
Currently, I see three major risks that could severely impact NexGen's prospects:
The elephant in the room is the initial capex, which stands at USD 951.3mn. It's a very large sum but I think that the company should be ok as long as it has the backing of Superman.

The price of uranium. The most dangerous thought you can have in a bear market is "this can't get any worse". Back in 2016 spot prices crashed by more than 40% after five years into the bear market. Can we see USD 15 per pound? Sure, why not? The market is still oversupplied and utilities are not back to resupply. This is why I consider NexGen to be a long-term investment. The sentiment in the uranium market is horrible and it can still get worse but NexGen has enough cash for a few more years. For me, this means that no matter how bad things get, at least the company won't need fresh funds for a while and shareholders are unlikely to see large dilution. This is not the case with many companies in the uranium space.
Project economics. What if NexGen is being too optimistic about Arrow? For example, Cantor Fitzgerald's latest update on the company assumes a mineable resource of 276 million pounds and all-in sustaining costs of USD 23.60 per pound.
Conclusion
Li Ka-shing aka the Warren Buffett of Asia is betting heavily on Canadian uranium miner NexGen Energy and I think that the investment case for the company is very compelling. When completed, the company's project will be the largest in the world and supply around 20% of uranium on a global scale. What's more, the project will be profitable even at the current depressed uranium prices thanks to operating costs of just USD 6.70 per pound and all-in sustaining costs stand at USD 11.78 per pound. Considering that Spain-focused uranium miner Berkeley managed to secure an off-take deal at almost USD 44 per pound, I think that a USD 40 scenario is achievable at this moment. A USD 40 price would give NexGen's project a net present value of CAD 2.49bn (USD 1.99bn), which presents an upside potential of more than 160% compared to the current market cap.
Additionally, NexGen's project is open in most directions and at depth and the company presents a compelling takeover candidate. Of course, investors should be mindful of the risks. The initial capex is a whopping USD 951.3mn, the bear market in uranium could go on for a lot longer and NexGen could be too optimistic in its economic model assumptions.
Overall, I think that the uranium market will recover at some point because the current price is unsustainable. It could take a long time or it could happen before the end of 2017 as KazAtomProm launches its trading arm ahead of its IPO.
The main reasons I like NexGen more than any other uranium miner are that it has a world-class project with low costs; around USD 160mn in cash; and a guy known as the Warren Buffett of Asia and Superman as its main shareholder.
Disclosure: I am/we are long NXE.
I wrote this article myself, and it expresses my own opinions. I am not receiving compensation for it (other than from Seeking Alpha). I have no business relationship with any company whose stock is mentioned in this article.
NexGen Energy – Investing In Uranium With The Warren Buffett Of Asia – Seeking Alpha}