South Africa's Hashim Amla and Quinton De Kock take fight to England – The Guardian
Joe Root wanted his England side to be stretched and the South Africans duly obliged on a dreamy day at Trent Bridge. Here was Test cricket as we crave it with the game ebbing and flowing tantalisingly at the most soothing venue in the country outside of St John's Wood. By the close South Africa were 309 for six.
They might have made more if the partnership of 113 between Hashim Amla and Quinton de Kock that decorated the afternoon session had continued after tea. They might have been in dire straits at 235 for six but Vernon Philander, with stout assistance from Chris Morris, stayed firm and strong in the evening sunshine. For England Stuart Broad took three wickets on one of his favourite grounds and offered the greatest threat. The game is alive and alluring because no one is quite sure who is winning it.
The toss was a futile exercise. Faf du Plessis chose to bat; Root, with the candour of a new captain, said that he would have bowled. There were some clouds above and a bit of grass below but in both cases not in great quantities. A good pitch has the captains in a bit of a quandary and, although a little short of pace, this seems to be what we have at Trent Bridge.
Du Plessis recognised that his top order would have to battle to survive the first session and that is what they did despite the early departure of Dean Elgar. He fell to a fine diving catch by Liam Dawson at backward point off an inviting full-length delivery from Jimmy Anderson, which provided the old boy with his 300th Test wicket in England.
Then the South Africans dug in. It would be quite an exaggeration to say that Heino Kuhn hit the ball to parts of Trent Bridge that other batsmen could not reach. In fact he loitered on the back foot most of the time from where he occasionally punched the ball through the gaps, heavy on grit, light on glamour.
As ever Amla was more pleasing on the eye, yet there was an element of humility about his innings. In the morning there were no wristy indulgences; the plan was to blunt the new ball and Amla was prepared to do the hard yards. He moved forward diligently in defence, seemingly with more time at his disposal than Kuhn. Only when confronted with the bouncer did Amla look insecure but initially his flails avoided the fielders. However he connected properly with one Mark Wood short ball, which was hooked to the boundary to register his 8,000th run in Test cricket.
In an abbreviated morning session South Africa fought their way to 56 for one. After the break Broad bowled Kuhn off the inside edge, which meant that South Africa's two best batsmen were now at the crease. They had decided to promote De Kock up the order.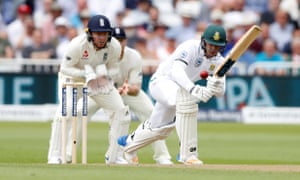 South Africa's wicketkeeper has never batted at four before in a Test match but it was decided midway through the game at Lord's that he would have to take on more responsibility. Hiding away at No7 as a wonderful insurance policy was no longer a viable option. South Africa needed to be more proactive.
Obviously De Kock was prepared to step up, which is not always the case. Cricketers can be a superstitious lot, wary of change and the benefits of flexibility, but given the state of the series and the frailty of South Africa's batting so far the promotion of De Kock made good sense.
He very nearly delivered a masterpiece, purring through the afternoon session, scoring at almost a run a ball while giving the impression that he was in watchful, responsible mode. In fact both De Kock and Amla paid Anderson and Broad their dues; they were blunted but upon their removal from the attack the run rate accelerated. Both these batsmen can propel the ball to the boundary with silky flicks that do not require a follow through. It is just that De Kock does this more often.
Dawson's first three overs leaked 19 runs and an Amla straight six, which just struck the boundary rope (why waste any energy?) and there were sweet drives against Wood and Ben Stokes. In the afternoon South Africa added 123 for one without a hint of violence.
But in the final session Broad imposed himself on proceedings though not quite so emphatically as in 2015 against Australia. His first delivery after the break found the outside edge of De Kock's bat and Alastair Cook held the catch at slip after a little juggle. Then he dismissed Amla with an intentional bouncer; another hook went up in the air but this time it landed in the safe hands of Wood at long leg.
Now Stokes made his first intervention with the ball in this series. So far the gulf between the old brigade of Broad and Anderson and England's other pacemen has been all too obvious. Here Stokes, although profligate, at least rekindled his reputation for making something happen.
His dismissal of Du Plessis required some assistance. The ball flew down the leg side and Jonny Bairstow, as he did at Lord's, took off to his left and held an excellent catch. Umpire Paul Reiffel raised his finger; Du Plessis immediately asked for a review and then third umpire Sundaram Ravi detected a touch on the glove before the ball brushed Du Plessis's backside. Presumably the South African captain only felt the second contact. Then Stokes dispatched Temba Bavuma, who was surprised by extra pace. Bavuma tried to withdraw from a delivery outside his off-stump but he was too slow and the ball brushed the face of his bat on the way to the keeper.
The innings was spluttering but in the last hour Philander and Morris, both elevated to all-rounder status after South Africa's decision to opt for the extra bowler, rallied with spirit and skill. Initially England gave them too many scoring opportunities; neither of these players is content when becalmed. So they grew in confidence quickly. Whether the ball was old or new they batted with great assurance on a golden sunlit evening, with Philander to the fore. It may not have been a perfect day for the tourists but they are back in the series.
South Africa's Hashim Amla and Quinton De Kock take fight to England – The Guardian